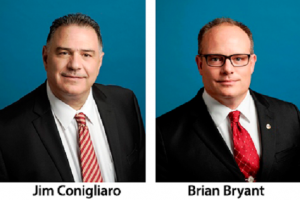 Article appearing on iMail – July 18, 2016 
In a move designed to take better advantage of the skills and experience in today's IAM Executive Council, IAM International President Bob Martinez announced today…
MARTINEZ ANNOUNCES NEW GVP ASSIGNMENTS
…that Brian Bryant will serve as GVP in the Secretary-Treasurer's Department at IAM Headquarters while Jim Conigliaro will assume GVP responsibilities for the IAM's 14-state Eastern Territory.
"Jim Conigliaro and Brian Bryant are among the smartest and most seasoned leaders in our union today," said Martinez. "We are fortunate to have their loyalty, their experience and their proven commitment to this organization. These new assignments are designed to take full advantage of those assets and I look forward to working closely with them to grow this great union."
Effective August 1, both assignments are expected to provide members and staff with fresh energy and enthusiasm as the newly-assigned GVPs undertake their respective responsibilities.