The Legislative department of the IAM ensures that the members of the IAM are represented in Washington. From legislation that destroys vital laws that protect working men and women, to ensuring that the members issues are heard – the legislative department spends countless hours speaking with congressional leaders on behalf of IAM members.
As with MNPL, the legislative department works to secure economic justice and security in the workplace.
The Machinists Non-Partisan Political League is the political arm of the International Association of Machinists and Aerospace Workers. It was created in 1947 to allow IAM members to gather individual contributions, coordinate political activity, and elect candidates who support IAM members and their families. Candidates we support know that the MNPL stands for economic justice, security in the workplace and equality for every member. They do not take us for granted.
The MNPL scrutinizes each candidate thoroughly. We ask tough questions such as their positions on trade, labor law reform, economic conversion, transportation policies, and enhancement of the U.S. manufacturing base.
Hasan Solomon & Ricky De La Fuente

Legislative/Political Directors IAM Headquarters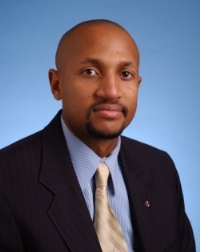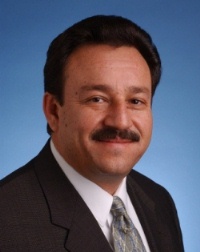 Current Legislative and Political Issues

ELECTIONS REALLY DO MATTER
REMINDER…IMPORTANT MESSAGE..Locallodge2297 and/or this site's administrator does not always necessarily agree or adopt the content or opinion of any other website or author linked from, or identified in or on this site.
BREAKING LEGISLATIVE NEWS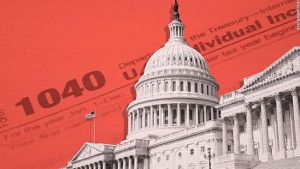 Republicans on Friday December 15, 2017 released their final version. They aim to pass it next week and send it to President Trump for his signature.
A SIMPLE BREAKDOWN OF THE FINAL GOP HOUSE/SENATE TAX BILL
2016 LEGISLATIVE CONFERENCE SNAPSHOTS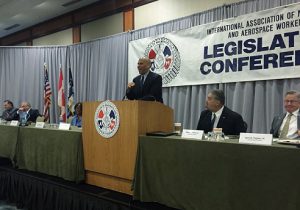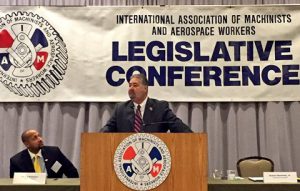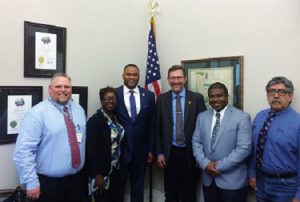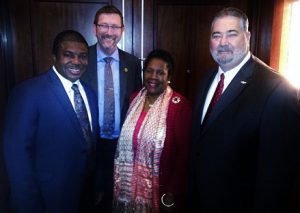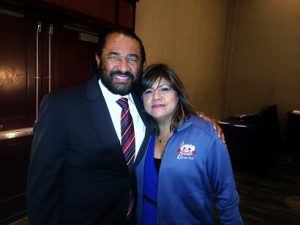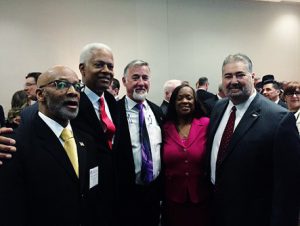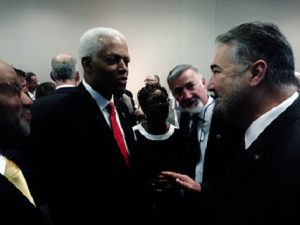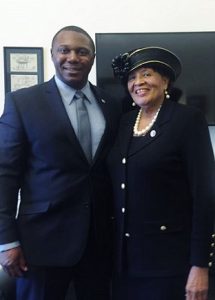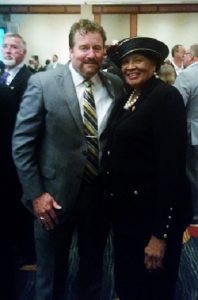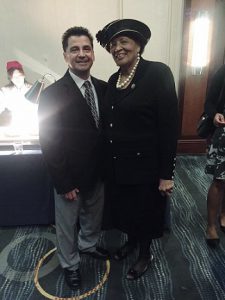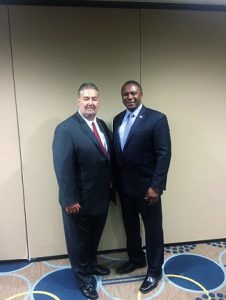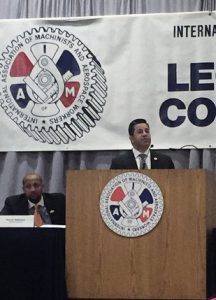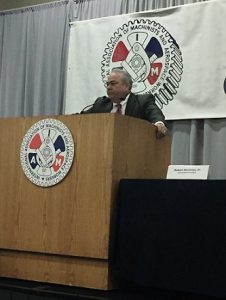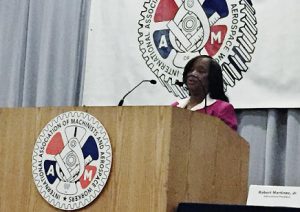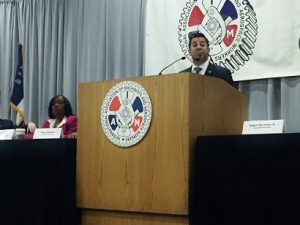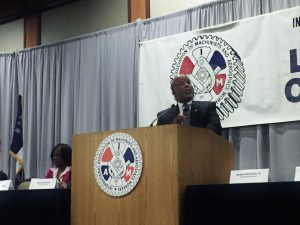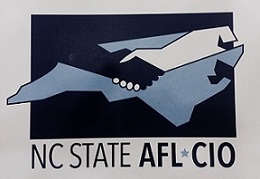 There is currently one member of the local lodge 2297 that serves as a Vice President on the NC AFL-CIO Executive Board. The member along with one other out of local lodge 1725 in Charlotte was elected to provide a voice for all IAM members throughout the state who are affiliated with the North Carolina State Council of Machinist.
What exactly does the N.C. State Federation do?
The objectives of the North Carolina State AFL-CIO shall be to promote, through appropriate activities and programs in the State of North Carolina, the objectives and principles of the AFL-CIO, including the following:
(1) To aid workers in securing improved wages, hours, and working conditions with due regard for the autonomy and integrity of affiliated unions.
(2) To aid and assist affiliated unions in extending the benefits of mutual assistance and collective bargaining to workers to promote the organization of the unorganized into unions of their own choosing for their mutual aid, protection and advancement, giving recognition to the principle that both craft and industrial unions are appropriate, equal, and 19 necessary as methods of union organization.
(3) To encourage all workers, without regard to gender, race, creed, color, sexual orientation or national origin, to share in the full benefits of union organization.
(4) To secure legislation that will safeguard and promote the principles of free collective bargaining, the rights of workers, farmers, and consumers, and the security and welfare of all the people.
(5) To protect and strengthen our democratic institutions, to secure full recognition and enjoyment of the rights and liberties to which we are justly entitled, and to preserve and perpetuate the cherished traditions of our democracy.
(6) To give constructive aid in promoting the cause of peace and freedom in the world.
(7) To aid and encourage the sale and use of union-made goods and union services through the use of the union label and other symbols; to promote the labor press and other means of furthering education of the labor movement; to promote the observance of Labor Day as the holiday honoring American labor.
(8) To protect the labor movement from any and all corrupt influences from within and without and from the undermining efforts of all others who are opposed to the basic principles of our democracy and free and democratic unionism.
(9) To safeguard the democratic character of the labor movement.
(10) While preserving the independence of the labor movement from political control, to encourage workers to register and vote, to exercise their full rights and responsibilities of citizenship, and to perform their rightful part in the political life of the local, state and national communities.
Question… What are Central Labor Councils?
Answer… Central Labor Councils (CLCs) are the local labor movement of the AFL-CIO. Each CLC covers a geographic area of several counties in North Carolina. CLCs are the bodies through which affiliated local unions are able to take collective action on issues important to them and directly affect the communities in which their members reside. CLCs provide a number of essential services to the union movement, including candidate screenings and endorsements and support of worker organizing campaigns of local unions affiliated with the federation.

There are (8) CLCs in North Carolina :
• Western North Carolina
• Triad • Triangle
• Eastern Piedmont
• Eastern North Carolina
• Souteastern North Carolina
• Greater Sandhills
• Southern Piedmont
Each Central Labor Council elects its own leadership, maintains its own postal and/or e-mail address and phone numbers, sets times and dates for meetings, and establishes its own dues structure.
AFLCIONC LABOR SCHOOL PAYS HUGE DIVIDENDS
THE FARM WORKER'S PLIGHT
NORTH CAROLINA STATE AFL-CIO

THE HOUSE OF LABOR
1408 Hillsborough Street
Raleigh, NC 27605

 919-833-6678 voice
919-828-2102 fax

THE PRESIDENT OF THE NC STATE AFL-CIO PICTURED BELOW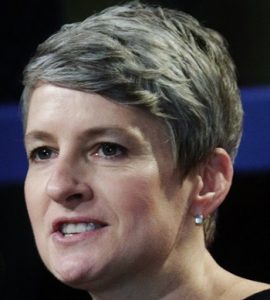 History Is Made – Atlantic Beach, N.C., September 15, 2017… MaryBe McMillian becomes the first woman to lead the North Carolina labor movement after being unanimously elected President of the North Carolina State AFL-CIO during the 60th Annual Convention…
North Carolina's Labor Federation Elects First Woman President To Lead A State Federation In AFL-CIO History….
POLITICS IN AMERICA
THE LABOR MOVEMENT IN NORTH CAROLINA
BARRY SANDERS TALKS WITH REVEREND BARBER
Moral Monday Architect and National NAACP President Arrested with Hundreds at U.S. Capitol below…
HB2-flyer-Beyond-Bathrooms
Legislature Nicknamed HATE BILL 2
LATEST NEWS JUNE 2016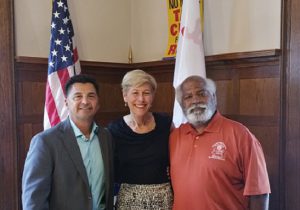 On Wednesday June 22, 2016 State Council President, Theodore McNeal and Council Political Director, Anthony Cruz met with the elected and endorsed Democratic Senate Primary winner, Deborah Ross at the House of Labor on Hillsborough Street in Raleigh. The State Council of Machinist as well as the North Carolina State AFL-CIO Cope Committee endorsed Ross in the Primary Elections held in March of this year. The Senate hopeful came to the spring meeting of the NCSCM in April and left a lasting impression on those who were attending. The Delegates present at that meeting and the Council Executive Board made a motion that unanimously passed to contribute the maximum contribution to Deborah Ross's campaign in the General election being held in November. We pledge our unwavering support to Deborah and will work our butts off to see that she defeats the current North Carolina Senator, Richard Burr.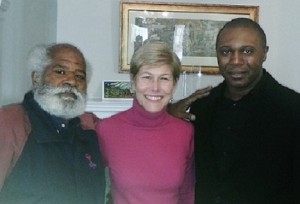 UPDATE…ROSS WINS DEMOCRATIC US SENATE PRIMARY!!!!! On Thursday, March 3, 2016 at the "House of Labor in Raleigh, N.C. , Theodore McNeal, who is the current President of the North Carolina State Council of Machinist delivered a MNPL contribution to Deborah Ross, a Democratic hopeful for the North Carolina U.S. Senate seat held by Republican, Richard Burr for almost 12 years now. Along with Brother McNeal is Charlotte's the new American Airlines Transportation Local 1725's Legislative Representative, Charlie Hines. Both McNeal and Hines are Vice Presidents on the North Carolina State AFL-CIO Executive Board and represent all North Carolina "Machinist Members" in that capacity
LEGISLATIVE PICTORIAL
Below is a picture of Roy Cooper shortly after he successfully defeated his republican opponent Pat McCrory


Butterfield Congratulates Governor-Elect Roy Cooper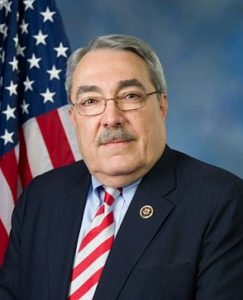 Dec 5, 2016 Press Release
WASHINGTON, DC – Congressman G. K. Butterfield (NC-01) today released the following statement congratulating Governor-elect Roy Cooper: "I congratulate Roy Cooper on his election as governor of the great state of North Carolina.  This was a hard-fought and well-deserved win.  I am confident that Roy will serve the people of North Carolina honorably, as he has for many years as attorney general. "The real work starts now and I am confident that Roy's leadership and vision will help the state thrive in the years to come.  I look forward to working with the newly elected governor and his administration to, grow the economy, make education a priority, provide affordable health care to our hard working families, and protect the rights of all North Carolinians."
IS THE CONGRESSIONAL BLACK CAUCUS A THING OF THE PAST?





 
The guys below could make life better or worst for you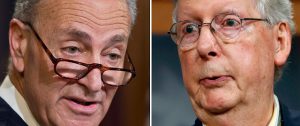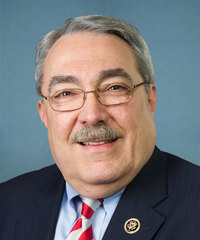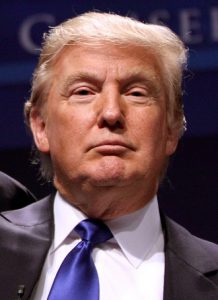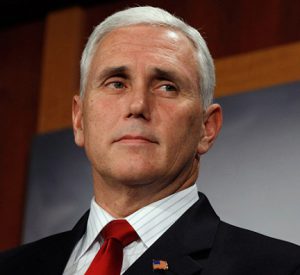 CONTACT YOUR REPRESENTATIVE
Your-Elected-Officials