TOGETHER WE STAND_DIVIDED WE FALL
Did You Know?
The IAM has over 5,000 Collective Bargaining Agreements representing workers in a wide variety of industries.
Unions are about a simple proposition: By joining together, working women and men gain strength in numbers so they can have a voice at work about what they care about. They negotiate a contract with their employer for things like a fair and safe workplace, better wages, a secure retirement and family-friendly policies such as paid sick leave and scheduling hours. They have a voice in how their jobs get done; creating a more stable, productive workforce that provides better services and products.
ORGANIZE ORGANIZE ORGANIZE
ORGANIZE ORGANIZE ORGANIZE
ORGANIZE ORGANIZE ORGANIZE

The Video Below Explores How the IAM Fights for Workers
The Organizing Committee is comprised of a Chairperson and Committee Members to assist in the Local Lodge's efforts to create more organized workers whether through internal organizing efforts are those designed to target and organize non existing units. The current Chairperson of the committee is Leonard Lott. Every Steward in the Lodge is automatically an organizer and thus a member of this committee. We must never stop our efforts to create new union members.
Boeing Workers in South Carolina to Vote on Union Representation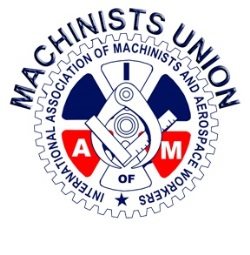 January 20, 2017, North Charleston, S.C. – The International Association of Machinists and Aerospace Workers (IAM) today will file a petition with the National Labor Relations Board (NLRB) to hold a secret-ballot union election for approximately 2,850 production employees at the Boeing Co. in North Charleston, S.C.The IAM represents more than 35,000 Boeing employees at 24 locations nationwide. For more information about the campaign visit BoeingWorkers.com.
Why A Union?
You don't have to go far these days to hear negative things being said about unions. Many politicians, employers and people in the media openly criticize the labor movement. They say that unions are out of touch and out of date. They also claim that unions no longer "deliver the goods" for their members. You must not fall for that. Now is the time for workers to unite. By forming a union, workers provide themselves with the opportunity to secure a voice in their workplace and ensure justice on the job. Union members are able to sit down with management as equals and bargain for better workplace conditions. For some, that might be higher wages and better benefits. For others it might be job security or fair treatment. Regardless of your specific needs, the union is here to help. Union members:
Earn wages, on average, 27 percent higher than non-union workers.

Are 54 percent more likely to have pensions provided by their employer.

Are more likely to have employer-provided health insurance benefits.

Have greater access to apprenticeships and training opportunities.
For more than 120 years, unions have fought for workers' rights and the benefits so often taken for granted. Benefits like sick pay, leaves of absence, bereavement leave, holidays, vacations, retirement security and healthcare. At the IAM, you will find one of the largest and most experienced unions in North America. You will find Machinists in aerospace, transportation, the federal government, automotive, defense, woodworking and several other industries. We represent workers at companies as diverse as Harley-Davidson, Southwest Airlines, Boeing, Pratt & Whitney, Freightliner, Tennessee Valley Authority and the Bureau of Engraving and Printing. In the federal government unions have existed for many, many years. This year in fact represented 50 years since then President John Fitzgerald Kennedy signed a bill to allow "collective bargaining" in the federal government. If you are a federal employee and there is no restriction on whether you may join a union, my advice to you is sign up right away. These are trying times for federal workers. There is power and strength in numbers. Make sure you are in those numbers.
48.9% of Union Members Worked for Government in 2015 UNION MEMBER SUMMARY
NO RIGHT TO WORK
How NC Members Turned the Tide on 'Right-to-Work "Just Win Baby"
By June 2014, the membership of IAM District 110 in eastern North Carolina had fallen to 588 members. The lack of dues money coming in meant the district, which mainly represents civilian workers at area military bases, was finding it difficult to adequately represent workers in each of its four locals. Their plan to get the district back on its feet started with organizing the members they already represented. North Carolina is a so-called right-to-work state, meaning workers can choose to not pay dues even as they benefit from IAM representation and a collective bargaining agreement. Stewards were challenged to hit the shop floor to ask every non-member to join the cause. Grand Lodge Representative Joe Greaser incentivized the challenge by offering an IAM-monogramed leather jacket to any member who brought in more than 25 members.
GLR Joseph Greaser shakes hands with Chief Steward Paul Spinner below. Brother Spinner was presented a special jacket for getting 25+ government workers to join the union within a years time frame.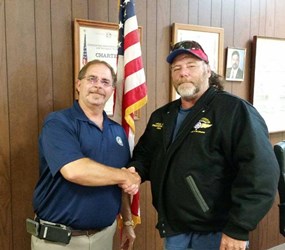 The district got a big jolt in November 2014 when URS contract workers at Marine Corps Air Station Cherry Point ratified their first Collective Bargaining Agreement, adding over 50 new members. Organizing efforts for eight more employees on that contract continue today. A year later, after winning an election to represent 135 EMS Services maintenance workers at Camp Lejeune and New River Marine Bases, workers ratified their first collective bargaining agreement. Hot off the heels of the first contract for EMI Workers, Phoenix Management workers at Camp Lejeune and New River were granted recognition and are now working on proposals for a first contract. The 15 employees unanimously signed authorization cards to petition for recognition, which the company granted recognition. "Their solidarity has already convinced the company that an election was not necessary," said Anthony Cruz, directing business representative for IAM District 110. "The Base is aware of the growing solidarity of Service Contract Workers.
Chief Steward, Walt Doyle pictured here was the first to receive a leather jacket for his outstanding organizing success. "Everyone wants to be on the winning team, and 'just win baby' is the motto of the Southern Territory when it comes to organizing," said IAM Southern Territory General Vice President Mark Blondin.      
You'll find Machinists… in Aerospace, Transportation, the Federal Government, Automotive, Defense, Woodworking and several other industries. We represent workers at companies as diverse as Harley-Davidson, Southwest Airlines, Boeing, Pratt & Whitney, Freightliner, Tennessee Valley Authority and the Bureau of Engraving and Printing.
ORGANIZING SERVICE CONTRACT ACT TO JOIN THE IAM TEAM 
FEDERAL EMPLOYEES......DO YOU WANT TO JOIN? 
UNION WORKERS….
HAVE BETTER WAGES

HAVE MORE BENEFITS

ENJOY BETTER WORKING CONDITIONS

JOIN A UNION TODAY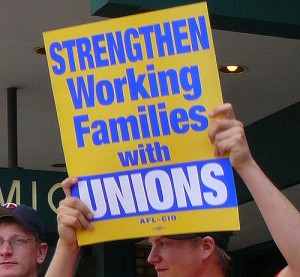 Organize!
Organize!
#Organize the South!