THE PRESIDENT'S CORNER


In January of 2015, I first raised my hand as your President and swore to faithfully serve the members of this local. I have always urged each employee to come to work on time, work hard, be a team player, be decent, practice safe work habits and look out for your fellow coworkers. Today we are going through a 2020 Vision reorganization/transformation at the Fleet Readiness Center East.
You may have noticed that a few employees have recently put in their papers to retire early. As we continue to move forward in today's challenging work environment, I can't help but reflect back to a time when it seemed that life was just a little less complicated.  The reality is that no one to this date has been able to turn back the hands of time. We must ultimately face life each day as it comes. While the NSPS repeal was a great victory, the good times for public employees in the IAM did not last long. 
Due to severe budget constraints at all levels of government and conservative politicians determined to abolish unions, IAM public sector workers are now under attack like never before.  We are spending more resources than ever defending our right to bargain, to maintain official time to represent our members, to maintain check-off so we don't have to collect dues by hand and other attacks against us.  In fact the cutting of 100,000 federal jobs at a time when over 12% of Americans are unemployed will only make the situation worse. It is essential that we do our part to change the public perception of federal workers.
As you know I recently attended the 39th Grand Lodge Convention of the International Association of Machinist and Aerospace Workers held in Chicago Illinois. The Recording Secretary and I were Delegates.  As Delegates we were assigned to serve as members on the Federal and Public Employees Committee. Below is a slightly modified version taken from the report our committee drafted.   I thought it captured the reality of what we as federal government workers and state and local public workers are facing as we move closer to the next administration.
There is a clear distinction between the Republican and Democratic Party platforms when it comes to how they view Unions whether government or private sector Unions.  There planned legislation are nothing more than union-busting schemes, which are popping up more and more in jurisdictions across North America.  As a result, the IAM's membership in the federal government has gown every year in the last four years. 
The federal government is the nation's biggest right to work employer, which makes organizing difficult.  But these attacks on government employees are making more and more workers realize the value of a union.  If you sit on the sidelines and don't engage in politics, Unions will continue to be forced to deal with anti-worker legislators that neither understand nor are willing to try to understand the importance of unions. This leads to bad policies, like we currently have in North Carolina, where the state will not recognize a collective bargaining agreement for public employees.
The IAM must continue to follow the workers regardless of whether they perform such work in the private, public or federal sector. Whether work is leaving the government through privatization, or being brought in-house through insourcing, whenever the work our members perform changes sectors, it threatens to bust the union.  In order to counter this problem, we have renewed our commitment to organizing workers in all sectors. 
Wherever work goes, we follow it, and we sign those workers up as Machinists. Districts should seek out resources from the IAM to follow the work when our members are moved into different sectors of employment. If you are wondering where do federal workers represented by the IAM work and how they contribute to our economy? Here are a few facts: 1) The IAM represents workers at the following locations;
Departments of Defense

Department of Homeland Security

Department of Veterans Affairs

Forest Service

Government Printing Office

Bureau of Engraving and Printing

Passport Services
and more than 30 additional federal agencies and departments.  2) 85 percent of the federal workforce lives and works outside of Washington, D.C., stimulating local economies and providing thousands of much-need jobs in all 50 states. The services these workers provide keep our country safe, healthy, and prosperous.
Lastly, under the current Republican controlled House, Senate and Executive Branch, government pensions are constantly under attack.  We must hold the line on pensions and never let them take them from us. All workers deserve to retire with dignity, and if we give up our pensions, we may never have retirement security for our members again. These Legislators want to cut our members' pensions to give tax breaks for millionaires.
We cannot and will not stand for that I want to thank President Robert Martinez and all of the Executive Council for their unwavering support for IAM public employees. "In order to counter these problems, we have renewed our commitment to organize workers in all sectors.  Wherever work goes, we follow it, and we sign those workers up as Machinists".
ONLY A UNITED WORKFORCE,
STRONG IN NUMBERS AND ASSERTING
THE POWER OF THE BALLOT, CAN TURN IT AROUND
This Union is preparing our Stewards and Officers through continuous education to respond to any situation that may arise as the local managers begin to implement changes to the policies and practices that have been in place over the past 50 years. We all have to work together to make certain that management officials and our federal employee workforce work in unison as we move through 2017.
The best way for us to minimize the impact of the new policies and practices is to join together as a united workforce so that the message is clear that we demand respect and will settle for nothing less than fair and impartial treatment and justice always on the job.
Best wishes to you and your family members throughout 2017 I remain forever fraternally yours,
Wilbert K. Woods
President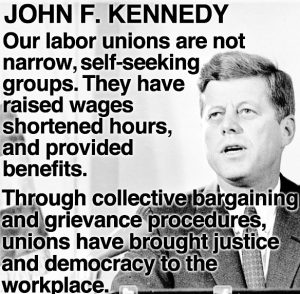 Observe The Brother At Your Side… And if he won't fight he ain't a Machinist ..Observe The Sister At Your Side. And if she won't fight she ain't a Machinist Observe The Leader At Your Side… And if he or she won't fight they ain't a Machinist Observe The Man In The Mirror… And if you won't fight you ain't a Machinist