THE TRANSFER OF POWER AND LEADERSHIP EFFECTIVE JANUARY 20, 2017
THE EXECUTIVE BRANCH OF GOVERNMENT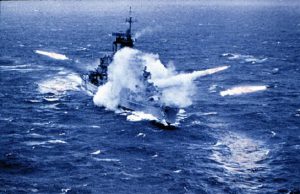 August 10th 2017 45th President says "NO MORE" to North Korea's Nuclear Missile quest "They will be met with fire and fury like the world has never seen" "North Korea has "been doing this to our country for a long time, for many years, and it's about time that somebody stuck up for the people of this country and for the people of other countries". The Question…What's Next? WILL AMERICA BE DRAWN INTO WAR?
THE LEGISLATIVE BRANCH OF GOVERNMENT
100 Senators Republicans are the majority
435 Representatives Republicans are the majority

Republicans slightly decreased their share of seats in the House of Representatives, going from 247 to 241 out of 435 seats. In the Senate, Republicans lost two seats, going from 54 to 52. In both cases the party retained its majority. Thanks to then-Senate Majority Leader Harry Reid's decision to invoke the so-called "nuclear option" in 2013, Democrats will effectively have little power to filibuster Trump's cabinet picks. Republicans confirmed leadership of Senator Mitch McConnell (R-KY) as Senate Majority Leader and Rep. Paul Ryan (R-WI) as Speaker of the House for the 115th Congress.  Other leadership positions will be announced as the new Congress begins Jan. 6, 2017.  On the Democrat side, the Senate Democratic Caucus elected Sen. Charles Schumer (D-NY) as Senate Minority Leader for the 115th Congress. Sen. Richard J. Durbin (D-IL) will serve as party whip and Schumers' chief deputy, maintaining a role he held under outgoing Minority Leader Harry M. Reid (D-NV). Also, added to the Senate Democrats' leadership team is Sen. Patty Murray (D-WA).  She will serve as the third-ranking Democrat, assuming a new title of assistant Democratic leader.  Schumer expanded his team to include Sen. Bernie Sanders (I-Vt.), Sen. Joe Manchin III (D-W.Va.), Sen. Tammy Baldwin (D-Wis.) and Sen. Elizabeth Warren (D-Mass.). The Democrats also announced changes to the committee leadership that include Sen. Jon Tester (D-MT) as ranking member of the Senate Veterans' Affairs Committee and Sen. Patrick Leahy (D-VT) as ranking member for the Senate Appropriations Committee.
                          THE 2018 BUDGET PROPOSAL OF PRESIDENT TRUMP..A BLUEPRINT ON HOW HE INTENDS TO "MAKE AMERICA GREAT AGAIN".
Senate Majority Leaders

 

Republican Leader
 Mitch McConnell



Republican Whip
 John Cornyn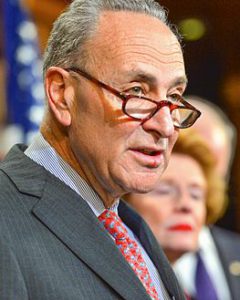 Democratic Leader Charles Schumer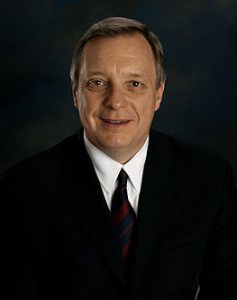 Democratic Whip Richard Durbin
Senate Minority Leaders Above


SPEAKER OF THE HOUSE PAUL RYAN

YOUR FUTURE IS IN THE HANDS OF THESE MEN. DO YOU FEEL COMFORTABLE IN THE HANDS OF THESE MEN?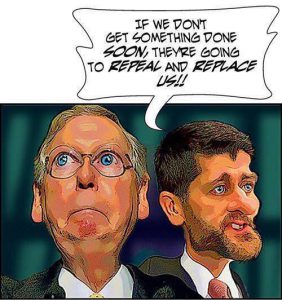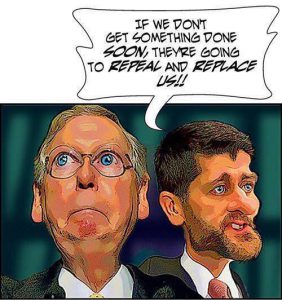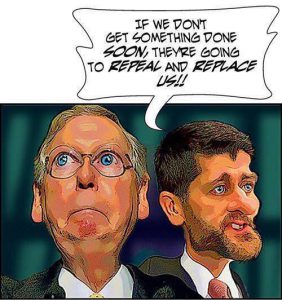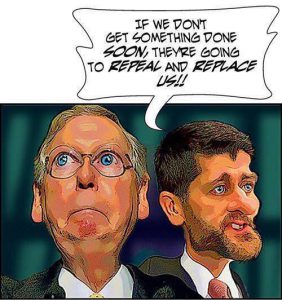 FIRST THE HOUSE REPUBLICANS FALL SHORT OF THEIR EFFORTS TO REPLACE "OBAMACARE" WITH THE "AMERICAN HEALTH CARE ACT" OF 2017 ON 24 MARCH 2017
.
Update_November 23, 2017..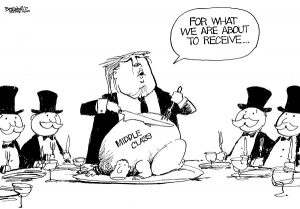 Republicans move forward with legislature to reform taxes in America. Trump promises to give "Middle Class" workers a tax cut while lowering taxes on the rich. Unions are apposed to this Bill passed already in the Congress now waiting for a vote out of the Senate.
Update_December 2, 2017..
BREAKING NEWS
Senate passes huge tax cuts after last-minute changes; conference with House next
Senate Republicans passed their tax bill early Saturday, so the next step will be a conference committee with the House to iron out differences with a bill that passed there on Nov. 16.
Via USA TODAY 2 December 2017
Question…What took them so long?
Republican House members finally succeed passing a replace and repeal (Obamacare)
MAJORITY LEADERS U.S. HOUSE


MINORITY LEADERS U.S. HOUSE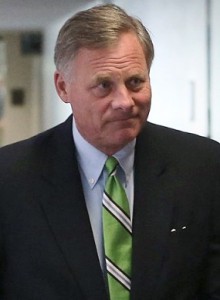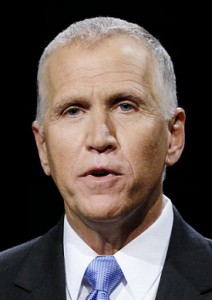 A Few key Representatives impacting 2297 in North Carolina North Carolina is a U.S. state with two senators in the United States Senate and 13 representatives in the United States House of Representatives. Each state elects two senators for staggered 6-year terms. Senators represent the entire state. North Carolina's senators are: NC US SENATORS RICHARD BURR AND TOM TILLIS
These representatives have the most impact on our members in Eastern, North Carolina



                G.K. Butterfield                        Walter Jones                         David Price                           

115th Congress



The new Congress is the most diverse in U.S. history, thanks to Democratic women
A CANDID CONVERSATION WITH 3RD CONGRESSIONAL DISTRICT CONGRESSMAN WALTER JONES BELOW;
IMPORTANT MESSAGE..Locallodge2297 and/or this site's administrator does not always necessarily agree or adopt the content or opinion of any other website or author linked from, or identified in or on this site.