LOCALLODGE2297.ORG

 

PRESENTING TIMELY UNION LODGE, DISTRICT LODGE, TERRITORIAL, IAM GRAND LODGE AND AFFILIATE NEWS AND INFORMATION, PLUS WORKER RELATED POLITICAL ACTIONS AND INFORMATION TO OUR VIEWERS JUST AS PLANE AS WE CAN!
MEMBERS OF LOCAL 2297 AS THEY PARTICIPATE IN THE 58TH COMMEMORATION OF THE GREENSBORO, NORTH CAROLINA SIT-IN AT A WHITE ONLY LUNCH COUNTER. THE EVENT WAS DEDICATED TO THOSE WHO PAVED THE WAY FOR CHANGE DURING THE CIVIL RIGHTS MOVEMENT.
STANDING ON THE SHOULDERS OF THOSE WHO CAME BEFORE US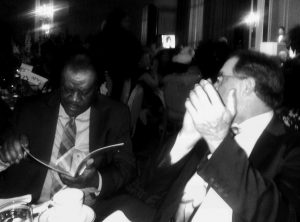 THE LITTLE ENGINE THAT DID!


 





 

.
"You could not have asked any local to do any better than what they have done in their 50-year history. Not only in the defense of our members but in defense of our Nation. They have managed to not only maintain their numbers but they've grown through internal organizing.
But it's the behind the scenes work they've done, that not many know about, which really makes me proud," said Joe Greaser, Southern Territory Grand Lodge Representative and honored to call Local 2297 home. Like The Little Engine That Could, this local used its power to help stop outsourcing of federal contracts, preserving the livelihoods of our members"
Congratulations to IAM Local 2297 in your 50th Year providing "Quality Representation" to Federal Workers at the Depot Level Repair Facility, Marine Corps Air Station, Cherry Point, North Carolina.
OUR MEMBERS PROVIDE WHATEVER IT TAKES TO SUPPORT OUR MILITARY CUSTOMERS IN THE U. S. AND THROUGHOUT THE GLOBE.
LISTED BELOW ARE JUST A FEW:
REPAIR…

OVERHAUL…

MODIFY… MILITARY AIRCRAFT AND EQUIPMENT

SUPPLY THEIR MILITARY COSTUMERS WITH THE NECESSARY TOOLS PARTS AND EQUIPMENT TO EFFECTIVELY ACCOMPLISH THEIR MISSION
WHILE OUR PRIMARY COSTUMER IS THE USMC, WE ARE PROUD TO SUPPORT THE WARFIGHTERS REGARDLESS THEIR BRANCH OF SERVICE. I HOPE YOU ENJOY THIS VIDEO.
We are determined to focus a lot of our interest in the area of equal rights and pay for all especially women.
WOMEN IN THE WORKPLACE
Some interesting information and statistics;

Women still lag far behind men when it comes to holding leadership positions in the public and private sectors, according to a new American Association of University Women (AAUW) Read Study Results…barriers-and-bias
Women currently hold only one in four positions in state legislatures and only one in five in the U.S. Congress. Even more telling is the fact that women hold only 5 percent of executive positions in the top S&P 500 companies.
"Both women and men want to have work-life balance, but in a lot of workplaces that is hard," said Miller.
When it comes to breaking bias barrier, unions provide one of the best avenues for women to achieve leadership positions. The IAM has taken the lead when it comes to women in leadership roles. General Secretary-Treasurer Dora Cervantes and General Vice-President Diane Babineaux hold two of the IAM's top positions.
For more on women and workplace issues go to Working-Women-2297