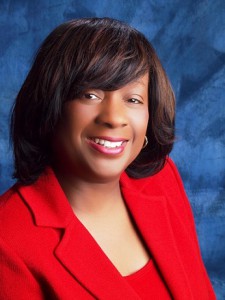 Diane Babineaux joined the IAM Executive Council on July 1, 2013 as the first African-American woman to serve as a General Vice President. She previously served as the Chief of Staff, formerly Executive Assistant, to the International President since 2000.
Her assigned duties as General Vice President include coordinating and administering the activities of several IAM Departments at Headquarters and to continue promoting the IAM's mission to expand women's and human rights. Babineaux started her career at the IAM in the MNPL/Political Department and moved to the Research Department. She became Special Assistant to the International President and then later appointed Executive Assistant.
Many of her duties include assisting the International President by researching economic and political trends and communicating the impact on working families. She also has responsibility for expense management and budgetary controls. In addition, Babineaux manages and directs the Human Rights department, Women's Department and the Young Machinist Program.
Babineaux works closely with the international trade union secretariats of IndustriALL with which the IAM is affiliated.
She was instrumental in holding the inaugural IAM Human Rights Conference in Orlando, FL and the first Young Machinists Symposium in Toronto, Canada.
Babineaux is an active member of the Labor, Human Rights and African-American Communities.
She is on the IAM's Board of Directors for Guide Dogs of America. She is a former Maryland Transportation Commissioner.
Her favorite charitable event is participating in the Las Vegas "Hawgs for Dogs" motorcycle event to support Guide Dogs of America.
Babineaux's most memorable accomplishment of 2015 was completing the re-creation of the historic 1965 march from, Selma to Montgomery, AL, March 4-9, 2015.
MEMBERSHIPS AND ORGANIZATIONS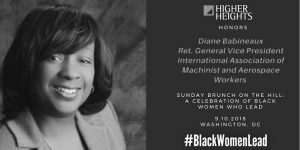 Diane is a current Trustee of the Coalition of Black Trade Unionist (CBTU) and serves on the CBTU Women's Committee. She is also on the National Board of A. Philip Randolph Institute (APRI). Other memberships include:
Asian Pacific American Labor Alliance (APALA)
Voter Participation Black Women's Roundtable
Coalition of Labor Union Women (CLUW) and Board Member
Conference of Minority Transportation Official (COMTO)
Labor Council for Latin American Advancement (LCLAA)
National Association for the Advancement of Colored People (NAACP)
National Action Network (NAN)
National Coalition of Black Civic Participation and Board Member
National Council of Negro Women
National Democratic Club
National Urban League
Operation PUSH
Pride at Work
AWARDS AND RECOGNITION
April 30, 2012…A. Philip Randolph Legacy Award, Baltimore Chapter APRI.
April 30, 2012, U.S. Senator, Benjamin Cardin…Certificate of Special Recognition (A. Philip Randolph Legacy Award).
April 30, 2012…U.S. Senator Barbara A. Mikulski (A. Philip Randolph Legacy Award).
April 30, 2012…City of Baltimore, Mayor of Baltimore.
April 30, 2012…Congressional Achievement Award, U.S. House of Representatives…A. Philip Randolph Legacy Award…Congressman Elijah Cummings.
April 30, 2012…The State of Maryland Governor's Citation… (Martin O'Malley, Anthony Brown).
August 9, 2011…Distinguished Visitor Miami-Dade County Office of the Mayor and Board of County Commissioners
April 2011…APRI Seattle Chapter, Appreciation Award
January 2009…Martin Luther King, Jr., Day Service Award
October 20, 2007…NAACP Salutes Women in NAACP Prince Georges Chapter.
July 11, 2007…NAACP Benjamin L. Hooks, Keeper of the Flame Award, National Association for the Advancement of Colored People 98th Convention July 11, 2007
February 22, 2003…The District of Columbia Chapter of the CBTU Black History Month Appreciation Award "Commemorating our Spirit"
2003…A. Philip Randolph Gentle Warrior Award…the A. Philip Randolph Pullman Porter Museum.
October 19, 2002…Outstanding Labor Leaders, Coalition of Black Trade Unionists (Kentucky Chapter)
November 13, 2001…Governor of Maryland for the Kathleen Townsend Award, Parris N. Glendenning, Governor
November 13, 2001…Resolution by the City Council of Baltimore in Recognition for receiving the Kathleen Townsend Award of Excellence for Women in Government Service.
November 13, 2001… Maryland Women for Responsive Government Inc. for receiving the Kathleen Kennedy Townsend Award of Excellence for Women in Government Service.
August 14, 2001… National Black Police Association Life Membership Award.
May 27, 2001… Coalition of Black Trade Unionists, Rising Star Award, 30th National Convention
January 2000… Martin Luther King, Jr. Observance, AFL-CIO, CLC/Labor Committee
August 12, 2000… In recognition of your Service and Dedication, Women's Recognition Dinner, Local Lodge 733.
July 1, 1997-July 1, 2000… The State of Maryland, Parris N. Glendenning, Governor to appointed and commissioned a member of Maryland Transportation.
Babineaux has a long history of labor union affiliation. Her father worked for Amtrak and is a retired union member of the Railway Carmen Union, and her grandmother is a retired union member of HERE. Her mother-in-law worked for John H. Swisher Company in Jacksonville, FL, which is represented by the IAM.
Diane Babineaux is a long-time resident of the Washington, DC area. She has one daughter, Telissha and three grandchildren, Taylor, Breanna and Ava. She and her husband, Kenneth, attend Ebenezer AME Church in Fort Washington, MD. Her main hobbies include collecting music and photography.
IT'S OFFICIAL 
THE IAM LEADERSHIP TEAM ARE SWORN IN ON JULY 1st 2017
ARTICLE III IAM CONSTITUTION (SECTION 22)
Installations SEC. 22.  G.L. officers shall be installed by the I.P.; or his/her deputy, and they shall assume the duties of their respective offices July 1, following their election, or as soon thereafter as the result is made known; provided, that each officer shall qualify within 10 days after being notified to appear for installation.
IAM Executive Council Looks Toward Future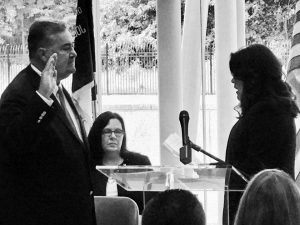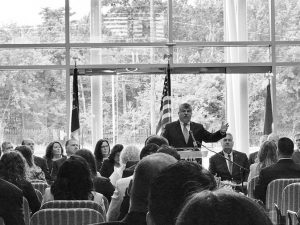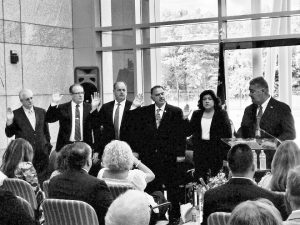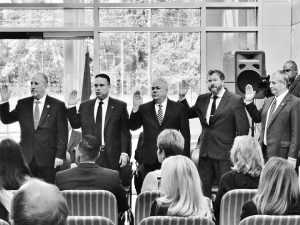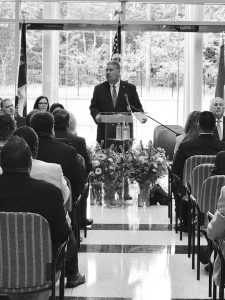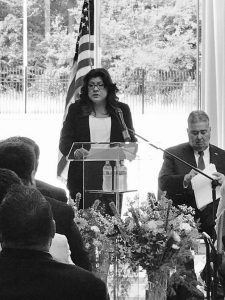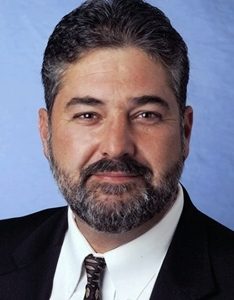 Robert Martinez, Jr. is the 14th International President since the founding of the International Association of Machinists and Aerospace Workers (IAM) in 1888.
Previous to his installment as International President, Martinez served as IAM Headquarters General Vice President (GVP) with responsibility for IAM Headquarters and the William W. Winpisinger Education and Technology Center. The Headquarters GVP also has jurisdiction for the IAM's Government Employees and Aerospace sectors.
A United States Navy veteran, Martinez began his IAM career in 1980 as a member of Local 776A in Ft. Worth, TX after being hired as an Aircraft Assembler at Lockheed Martin's Fort Worth Division.
From 1980 to 1994, Martinez served in various positions with his local lodge before being appointed in 1995 as a staff member in the IAM Safety and Health Department. He also served as a Project Coordinator for the Re-Employment and Safety Training (IAM CREST) and for the Center for Administering Rehabilitation and Employment Services (IAM CARES).
In 1999, International President Tom Buffenbarger assigned Martinez to serve as the Southern Territory Education Representative with responsibility for training and education for IAM members in 14 southern states. In April 2002, he was appointed as a Special Representative and served in that capacity until joining the Executive Council in 2003 as the General Vice President assigned to the Southern Territory.
In addition to serving on the IAM Executive Council, Martinez is on the Board of Directors for Guide Dogs of America (GDA), serves as a Trustee on the Board of the IAM National Pension Fund and is a National Vice President on the National Executive Board of the Labor Council for Latin American Advancement (LCLAA).
Vice President Martinez was recently honored with Guide Dogs of America's highest honor, the Gift of Sight Award and the Cesar Chavez Award from LCLAA for his work on behalf of the Latino Labor Community.
Meet-The-International-Presidents-Staff
Dora Cervantes became the IAM's 12th General Secretary-Treasurer on August 1, 2015. She is the first woman to direct the IAM's finances as General Secretary-Treasurer.
Cervantes first joined the IAM Executive Council on July 1, 2013 as the first Hispanic woman to serve as a General Vice President. Cervantes has served as the Assistant Secretary to the General Secretary-Treasurer since 2012. As General Vice President, Cervantes worked in partnership with the General Secretary-Treasurer to administer the IAM's financial operations.
Cervantes initiated into IAM Local 2198 in Houston, Texas in 1989 as a Reservations Agent for Southwest Airlines. She served in many capacities for her Local Lodge, including Organizer, Shop Steward, Recording Secretary and Vice President.
In 1999, Cervantes was chosen to serve as an Apprentice Organizer for Airline District 142, and became a General Chairperson for that District the following year. By appointment from International President Tom Buffenbarger, she served on the IAM's 2002 Blue Ribbon Commission.
In 2005, Cervantes was appointed to the Grand Lodge staff in the Transportation Department as a Special Representative, and was later promoted to Grand Lodge Representative. It was in July of 2012 when Cervantes was selected by General Secretary-Treasurer Robert Roach, Jr. to serve as Assistant Secretary to the GST.
Cervantes currently serves as a National Board Member on the Labor Council for Latin American Advancement (LCLAA), is an active member of the Coalition of Labor Union Women (CLUW) and serves on the Women's Committee of the International Transport Workers' Federation (ITF) headquartered in London.
Fluent in English and Spanish, Cervantes helps teach the Spanish Leadership series at the William W. Winpisinger Education Center and the IAM/Aviation High School Partnership Program. She holds a Bachelor of Arts Degree in Labor Studies from the National Labor College.
General-Secretary-Treasurer Meet-The-Staff 
MEET YOUR GRAND LODGE AUDITORS
Mark Blondin has served as the General Vice President of the Southern Territory since July 1, 2013. The Southern Territory includes 14 states: Alabama, Arkansas, Florida, Georgia, Kansas, Kentucky, Louisiana, Mississippi, North Carolina, Oklahoma, South Carolina, Tennessee, Texas, and Virginia as well as Puerto Rico and the Virgin Islands.
His IAM career started in 1978 while working at an IAM-represented machine shop in Seattle, Washington. He hired on at the Boeing Company in 1979, and worked as a Toolmaker at the Renton, Washington facility. As an active member of IAM Local 751C, he held numerous Local Lodge positions through the years, including Shop Steward, Auditor, Trustee, Financial Secretary, Recording Secretary, Vice President and Delegate to the District Council. Blondin has always been a champion for workplace health and safety and served for many years on the Renton Site Safety Committee.
In 1996, Blondin was elected as a Business Representative for District Lodge 751, and in 2000 he was elected President and Directing Business Representative. In addition to serving as President and Directing Business Representative at District 751, Blondin also held the position of Secretary Treasurer of the Washington State Machinists Council.
Blondin was also elected to the IAM Law Committee and served during the 2004 Grand Lodge Convention in Cincinnati, Ohio. Blondin was assigned as an IAM Aerospace Coordinator in 2007, with the primary responsibility of negotiating all agreements between the IAM and Boeing throughout the United States and Canada.
He served as Chief IAM negotiator for all IAM/Boeing contracts until he joined the Executive Council in January of 2012 as General Vice President of the Aerospace Territory.
On July 1, 2013, Blondin was assigned to lead the Southern Territory, covering 14 States as well as the Virgin Islands and Puerto Rico with collective bargaining agreements covering nearly 100,000 workers.
Blondin assists the community as a board member and fundraiser for the Guide Dogs of America, the Salvation Army, and Victims Support Services, a non-profit advocacy group for victims of violent crimes.
The Government Employees Department is responsible for responding to the volumes of changes that occur in the federal sector. Federal employees work under a constrained system of rules, regulations and executive orders that severely limit their scope of bargaining.
THE DIRECTOR OF THE IAM GOVERNMENT EMPLOYEES DEPARTMENT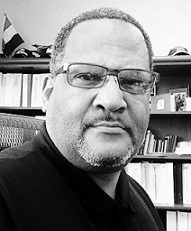 Brother Jim Price was born in St. Louis, Missouri on March 22, 1955 a true blessing to his parents, James E. Price Sr. and Arlene T. Price. He is the oldest of four children, Deborah, Charles, and Kelly Price, all of whom still live in the St. Louis Metropolitan area.
At a young age his parents converted to Catholicism and he attended and graduated from St. Rose of Lima Grade School and De Andries High School in St. Louis.
He experienced lots of life lessons as he grew up. The first and one of the most important was while spending his summers with his Great Grand Parents and his cousins in Meridian, Mississippi from 1963 through 1969. For a kid from a metropolitan area there was a culture shock. Never being taught that there was any difference in people and even though St. Louis had its problems with race relations his parents taught tolerance.
Jim had two loves in school; they were Music and Sports which continued through College.
He attended Briar Cliff College, Sioux City, Iowa, (now Briar Cliff University) from 1973 through 1976 where he played one year on the Basketball team, performed with the Cliff Singers Chorus and met my wife Colleen Deegan.
Even though he did not achieve a degree, he did however learned much about people and himself during that time.
After returning to St. Louis in 1976 he went to work for the City of St. Louis as a Correctional Officer at the medium security institution for a brief period of time.
He applied for a position and was hired as a Learner Helper at McDonnell Douglas Electronics in St. Charles, Missouri making first terminations on wire harness boards. He moved quickly from that position to the highest Production position on the electronics side of the house of Electronic Assembler where he worked on Flight simulators for the AH 64 Apache, Circuit cards, Wire Bundles, and Components for FA-18 and F-15 aircraft built by Mc Donnell Douglas Aircraft St. Louis Missouri.
During this time he served as Vice-President, President, and Shop Steward of IAM LL 837-E. He also served the Local as Delegate to Missouri State Council of Machinists, Midwest States Council of Machinist, Missouri State AFL-CIO, IAM Grand Lodge Conventions in 1984 Seattle Washington, 1988 Atlanta, Georgia, and 1992 Montreal, Canada.
After Mc Donnell-Douglas Electronics Plant closed Local Lodge 837-E was merged into Local Lodge 837-A and Jim was appointed Business Representative for District Lodge 837 and performed those duties for two years.
At this point Jim was appointed Coordinator for the High Performance Work Organization program instituted by District Lodge 837 with McDonnell Douglas Aircraft where his duties included creating and providing training for management, Shop Stewards and the Membership on HPWO's specifically forming of teams.
In 1996 prior to the sale of McDonnell Douglas to the Boeing Corporation the members endured a ninety-nine day strike over subcontracting of work. Once they returned to work Boeing Corp bought out Mc Donnell Douglas and he went back to his duties as the Coordinator and liaison for District 837 for HPWO's.
In January of 1998 Jim was contacted by then IP Tom Buffenbarger and asked to join the IAM staff as a Coordinator in the Collective Bargaining Department.
He accepted and worked for eighteen years on coordinated contracts with companies like Armstrong World Industries, Cytec Chemical Company, and Trane Corporation. His duties also included working with the Metal Trades Department of the AFL-CIO dealing with both Naval and private shipyards and Department of Energy sites across the United States.
In January of 2016 Jim took over as Director of the Government Employees Department from a dear friend of his and a great Trade Unionist, Frank Carelli.
He had worked with Frank supporting him whenever he needed support during his tenure as Director of that department. He learned a lot about the Government sector from Brother Carelli and now he is continuing Frank's vision of where we need to be with regards to our Government Sector brothers and sisters.
Here are a few goals that James would like to achieve
To increase our membership by at least 10% each year, if each local increases membership by 10% it will help set the tone for not only contract negotiations but it will also provide strength when we approach our Congressmen and Senators about Government Employee issues.

To bring NFFE and all IAM local members together so that there is a seamless response to all our government employees. The National Federation of Federal Employees (NFFE) and the IAM merged in 1999 and NFFE has since become fully affiliated with the International Association of Machinist and Aerospace Workers (IAM). The goal is to get all parties working together to support each other in organizing, representation, and political action.

Create an education process outside of our great W3 Center that speaks specifically about current issues that specifically impact "government employees" and with the approval of the IAM Executive Council, put together an annual Government Employees Conference so that the issues of the day, such as EO15322 Partnership, Safety and Health in the Government Sector, Security Clearances, etc. can be thoroughly discussed and education provided on the progress or lack of progress on these issues and action plans might be generated and disseminated with every federal entity on the same page.

Start an ongoing dialog between all government sector locals within the IAM/NFFE and build positive relationships with each government sector union. Relationships are the key to success in Jim's mind he always believes we are stronger together and if we are stronger together within the IAM imagine how strong we could be if we worked with other unions and move toward the same goals. Jim says this can be achieved but it's going to take;
Hard Work

Trust

Purpose

Preparation
…to make this work. Now you know a little about Brother James E. Price. He is committed to doing all he can to make the federal employee unions as powerful and knowledgeable as they can possibly be.
What about you IAM and NFFE members? Where do you stand?
Anthony Cruz was born July 23 1964 in Chicago, Illinois. He joined the United States Marine Corps in 1984 and moved to North Carolina in 1985 where he was stationed aboard Marine Corps Air Station Cherry Point at VMAQ-2 working as an EA-6B Airframe (Hydraulic) Mechanic. While in the Marine Corp he received the Naval Unit Commendation, Sea Service with Star, Marine Corps Expeditionary Medal and a Good Conduct Medal. He left the Marine Corp in 1988 and worked as a Pipefitter/Plumber from 1988 until 1992.
Anthony began his federal career in 1992 working as a Powered Support Systems Repairer at the Naval Air Depot now named the Fleet Readiness Center East.
Brother Cruz joined the IAM &AW in 1992 and has been a dues paying member of Local Lodge 2297 from that time until the present which comes to some 22 years if you do the math.
Anthony felt the need to do more than just pay dues so in 2000 he began a life serving his fellow workers as a Shop Steward. In 2005 he was elected as the Chief Steward for the 95000 Division and maintained that position until 2011. Anthony also was appointed as the Communicator by his lodge President in 2001, was editor and chief producer of his local's "Plane Talk" newsletter until 2003 and has continued in that role of Communicator until present. He was appointed to the position of Trustee in 2013 and has been a long standing member of the local lodge Legislative Committee;
The following represents some of the duties and services Anthony has so unselfishly provided over the past few years;
Legislative Committee_ 2007-Present;
He developed over the past few years a strong working relationship with many Federal, State and Local officials. Partnered with NFFE to stop outsourcing of jobs, FRC East workload, BRAC protection, elimination of NSPS, Federal Employee benefits, and lobbied for stronger Service Contract Agreement protections
Negotiating Committee 2010-2011;
He helped create union proposals that eventually became language within, Negotiated LL2297 Contract, which includes "Pre-decisional involvement" clause; first ever language in a DoD Collective Bargaining Agreement.
• North Carolina State Machinists Council-Legislative Chair 2008 to Present
• Machinists Non-Partisan League Delegate 2008-Present
• President of Eastern North Carolina Central Labor Council 2013-Present;
• Established working relationships with United Steel Workers, International Brotherhood of Electrical Workers, Postal Workers, Letter Carriers, American Federation of Government Employees and affiliated AFL Unions
• Equal Employment Opportunity (EEO) advocate;
• He represented members through process, including formal hearing before ADJ.
• Small Business Owner; Bladz & Rayz LLC, Hair & Tanning Spa/Salon, established 2000
• Occupational Safety & Health Specialists 2011-2014
• OSHA Voluntary Protection Program implementation-Fostered Partnership between IAM, Fleet Readiness Center East and OSHA
Community Interest;
• Past School Advisory Board President, Annunciation Catholic School;
• Board Member-Havelock Youth Soccer-Coach Havelock Pop Warner Football,
• Coach Havelock Youth Basketball & Annunciation Junior Varsity,
• Member Havelock Parks & Recreation Advisory Board.
Anthony is married to the lovely Mrs. Jennifer Muccino Cruz. They were married in 2002 and the two of them as a couple, based on some folk's comments are somewhat pleasing on the eye.
Brother Cruz has five children, Maria, Julia, Amber, Michael and Abigail
On 21 July 2014 Anthony was at the District Lodge 110 business office anxiously awaiting the results of the Directing Business Representative election. As it turned out Anthony who was 1 of 2 candidates hoping to get the job was successful in his quest and won that election.
Anthony was sworn into the Directing Business Representative position the latter part of 2014 in which he served out the remainder of the term of office previously held by Ron Shafer who retired in mid-2014. In April of 2016 Brother Cruz was again elected as DBR with his new 3 year term starting on June 1, 2016.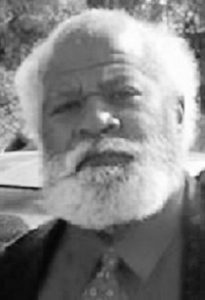 Born in March of 1953 to working class parents Theodore McNeal enjoyed a normal childhood. The only son in a house with three sisters helped him to learn to how to stand on his own and he developed interest in sports and music. He spent many hours working with his father at his auto body repair shop where he gained most of his mechanical and creative skills.
After High School he took his musical talent on the road and played in a dance band from 1971, the year of his graduation from High School, until 1975 when he joined the United States Navy and served proudly for 4 years. During his 4 years in the Navy he picked up the skills and knowledge of aircraft repair as an Aviation Structural Mechanic.
Theodore was selected as Recruit Chief Petty Officer (RPOC) of his company in Boot Camp and perhaps that is where he had his first real experience as a leader of men.
Shortly after his discharge in 1979 Theodore returned home to Eastern, N.C. and in October of 1980 he was hired as an Aircraft Worker at the then Naval Air Rework Facility aboard Marine Corps Air Station Cherry Point.
Theodore joined the IAM & AW in December of 1980 shortly after he started his civil service career and he has been a dues paying member continuously since that time. He worked as an Aircraft Mechanic by trade assigned to the Aircraft Production Division. He was promoted to the position of journeyman level mechanic in 1986 and has worked on a variety of weapon systems platforms during his 32 plus years at the Cherry Point based Aircraft Depot Level Repair Facility.
Throughout his government career he has been involved with various types of maintenance operations both at Cherry Point and abroad. In the late 1980s he participated in the successful return of a LC130 Hercules that had crashed and was buried in snow for 16 years. In the 1990s he was one of many who participated in the liberation of Kuwait during operation Desert Shield and Desert Storm. Again in the middle 1990s working with the State Department he acted on behalf of the U.S. government in an effort to secure foreign military work for the United States with the Argentine government for their A4 aircraft inventory. Theodore has traveled the world on field team assignments and as you can see he definitely had an interesting work career.
In October of 1995 after a few years as a Shop Steward he was elected the Aircraft Production Division 95000 Chief Steward and served in that capacity for (5) years until June of 2000 when he was elected to the office of Vice President for Local Lodge 2297. During several months of absence due to illness of the elected President at that time he performed the duties of the President until May of 2002 when the President regretfully stepped down for health reasons. Theodore served in that capacity until January of 2015.
Theodore has attended many labor related education classes at the IAM educational facility in Placid Harbor, Maryland. He completed all of the Leadership series classes that are offered there including Advanced Leadership classes and Train The Trainer class and also attended classes specifically designed to address representation of workers employed by the federal government. He attended Advanced Collective Bargaining classes as well as Arbitration and Merit System Protection Board training over the years.
One of the things that truly reflect the character of a great leader is who chooses to follow that leader. Leaders for the most part are born to lead and Theodore has been such a leader.
His peers have elected him to serve six (6) consecutive three (3) year terms as President of IAM & AW District Lodge 110 with their office located in Havelock, N.C. District 110 is inclusive of members of various IAM lodges throughout North Carolina and portions of South Carolina.
 His peers also elected him to serve as the 1st Vice President of the North Carolina State Council of Machinist. The council is inclusive of delegates from a variety of industries in the state where the IAM represents workers employed at those industries. In January of 2014 brother McNeal was advanced to the position of President of the Council when the sitting President was hired by the Grand Lodge to serve as an Auditor.
Theodore's peers also elected him to serve on the Executive Board of the North Carolina State AFL-CIO for three (3) consecutive four (4) year terms where he continues to protect and defend the interest of all IAM members in the state and every single working man and woman who deserve better wages and working conditions and a safe working environment.
Theodore has attended legislative conferences in Washington D.C. for 12 years in a row with the exception of one year where there was a schedule conflict. He has lobbied Representatives in the House of Representatives and the Senate and has been assigned to the MNPL Planning Committee for a number of years.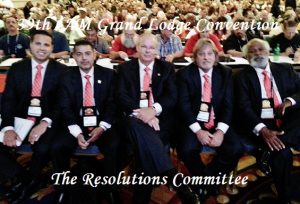 He has attended many key rallies held up in Washington, D.C. over the years and was a part of a movement that led to the repeal of NSPS during the Bush administration.
Theodore participated in Negotiations with the help of his team members with both the Aviation Depot/FRC and the Navy Supply/DLA Employers and affixed his signature to multiple Collective Bargaining Agreements.
He was appointed Local Lodge 2297 Educator by the current Lodge President, Wilbert Woods in January of 2015 and maintains the Local's website as the lodge WebSteward.
                                      BELOW IS  LOCAL LODGE 2297'S MOST TRUSTED SERVANT
Except for a brief time in the late 90's Wilbert Woods has been a dues paying union member of IAM & AW Local 2297 since beginning his work as a federal employee at the rework facility at Cherry Point, N.C. He began his career working at Alameda, California close to 20 years ago.
He was approached after work one day about joining the union and at first he had some reservations. After considerable thought he decided he would give it a try.
Shortly after, he joined and began to be exposed to things going on in the workplace that he considered to be kind of shady and less than fair. He approached his union representative about these issues and not one time did the representative not at least try to bring about the desire result. This impressed him and he has been sold on the union ever since.
Today as the current President he has had the pleasure and opportunity to represent all employees in the bargaining employee unit of LL2297. He takes this responsibility very seriously and becomes disturbed anytime someone does anything that might hinder the union's ability to provide proper representation to the employees in the bargaining unit.
He was elected President in October of 2014 and was sworn into office in January of 2015. During his campaign he only asked that the members give him a fair opportunity to show what he would do to protect their rights and their future at FRC East Cherry Point. He was re-elected to serve a second three (3) year term in October of 2017.

To quote President Woods "Every day we are awaken with a certain amount of mental, emotional, and physical energy that we spend throughout the day". I promise to expend the majority of that energy worker for the members as well as those who are potential members.
He promises he'll do everything that his ability will allow to work for the workers and in him you will have a person in that is;
• Honest
• For the people
• A fighter, who will fight the good fight
• Loyal
• Dedicated to his duties as representative of the people
• Steadfast, and committed to being with you all the way to the end
• Educated
• A great communicator
• A mediator, with excellent people skills
• Understanding and an outstanding listener
• A Organizer, believing that all workers in the unit should become union members
• An active advocate not only for justice on the job but an individual who will lobby for workers in Washington, D.C.
Background
• Served previously as your Recording Secretary
• The sitting chair of the Events Committee since 2007
• Received leadership training from Placid Harbor Maryland
• A member of the Negotiating Committee
• Familiar with both FRC and DLA contracts
• A family man, a husband and father with children who have achieved great successes for which he could not be more proud of.
• Supporter of the local community projects and sports programs and well respected in the local community
• Has been a positive role model and a humble leader.