LL2297 Guide Dogs of America Committee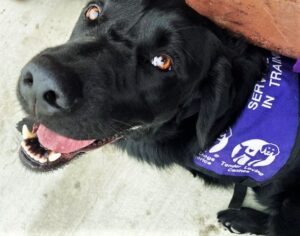 Guide Dogs of America provides guide dogs and instruction in their use, free of charge, to blind and visually impaired men and women from the United States and Canada. Local Lodge 2297 established a committee in early 2000 to plan events that would allow the public to contribute donations through prize raffles and events such as Poker Rides and golf tournaments. The initial goal in that year was to raise enough money to sponsor a dog which at that time was around $25,000.00. Today the cost of raising, and training a Guide Dogs has increased considerably. The Guide Dog Committee Chair at the time of this page posting is Rory S. Brown. Rory is now the Local Lodge President.

Upcoming Events: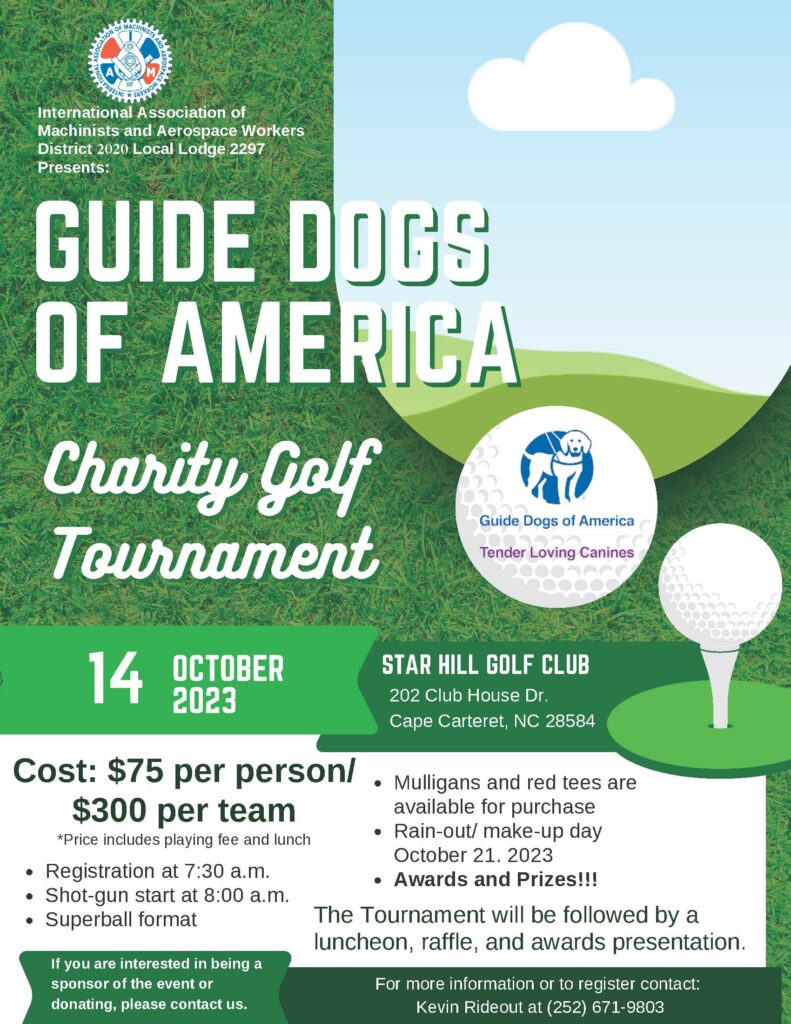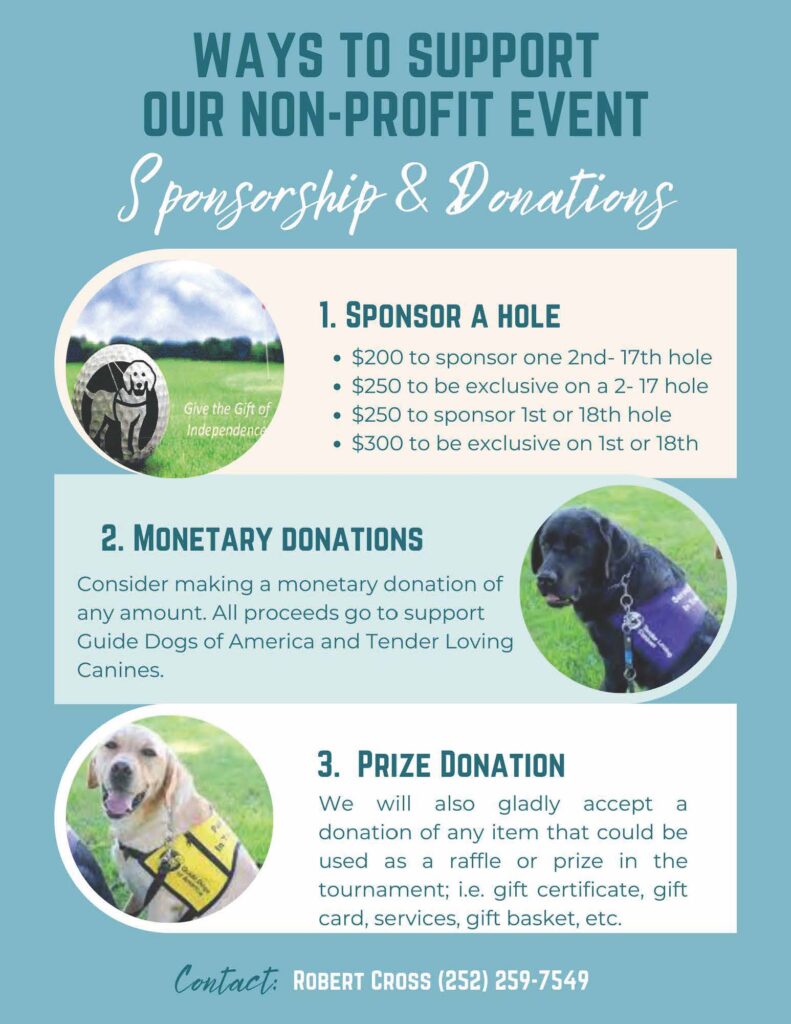 Past Events:
It was a windy sometimes sunny and other times cloudy day when area bikers showed up at "Friends", a social spot in Havelock, N.C., to participate in a "Poker Run" sponsored by Local Lodge 2297 of the International Association of Machinist and Aerospace Workers. The Local has put on multiple events in past years to raise funds for the IAM charity, Guide Dogs of America. About 45 bike riders set off on a designated route about 1115 a.m. on June 18, 2016. Volunteers from the lodge were at the registration area in front of Friends and at each stop to facilitate the Run. Area merchants and businesses donate prizes that were raffled off for those who dared to take a chance and after the Run the participants enjoyed some barbecue and Chicken as the prizes were drawn and a winner of the Poker Run best hand was announced. The Chairman of the Event's Committee, now President of the Local is Chairman of the Guide Dog Fundraising Committee, did a magnificent job along with the other committeepersons at coordinating those efforts and we commended them all for their efforts. Every other individual who assisted the Committee in this successful effort also deserves recognition. Also participating either as riders or facilitators were two members from Headquarters Staff, Grand Lodge Auditor William Cashion and Director GST Services Carlos San Miguel , Grand Lodge Representative, Joseph Greaser and Anthony Cruz District Lodge 110 DBR as well as other affiliated 110 Lodge Officers played a part. Lodge 2297 has been unselfishly promoting GDA fundraising projects for over twenty years and is constantly in the planning stages for future events.
Participants of the Poker Ride do their thing!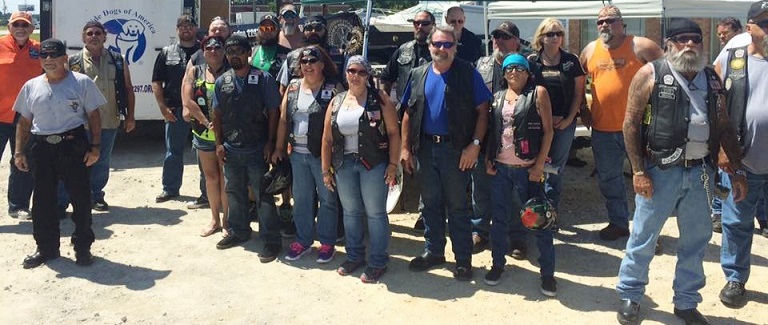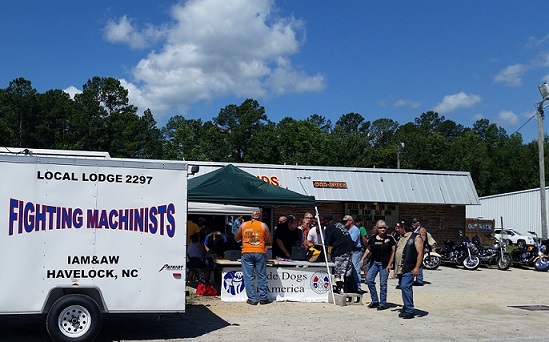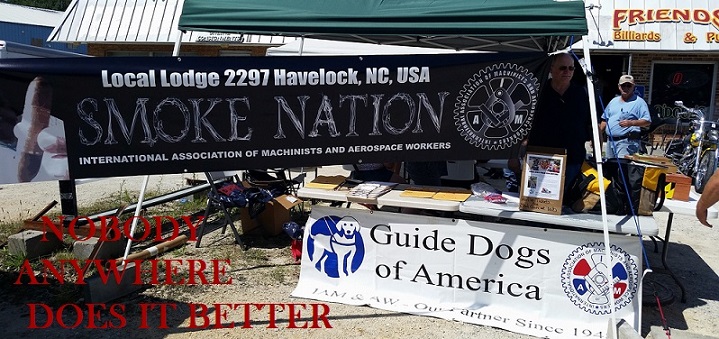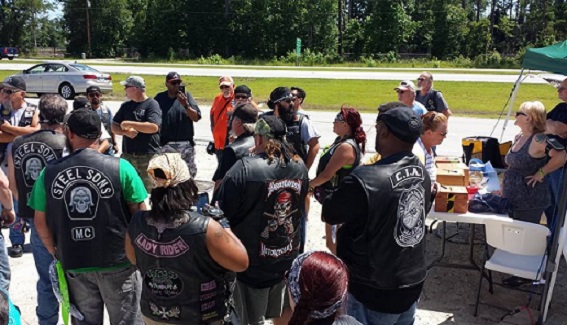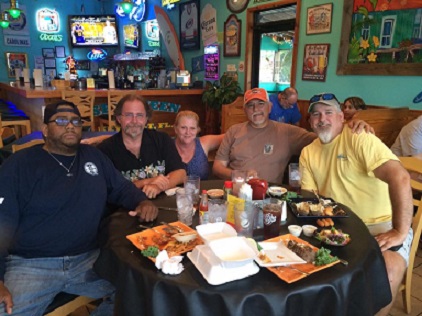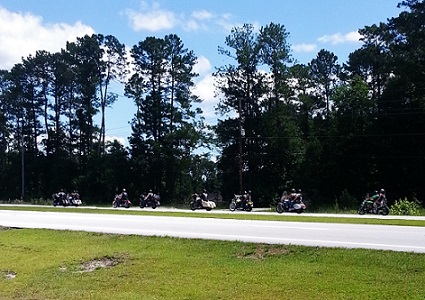 Poker Run rider wins Big Cash $$$ Prize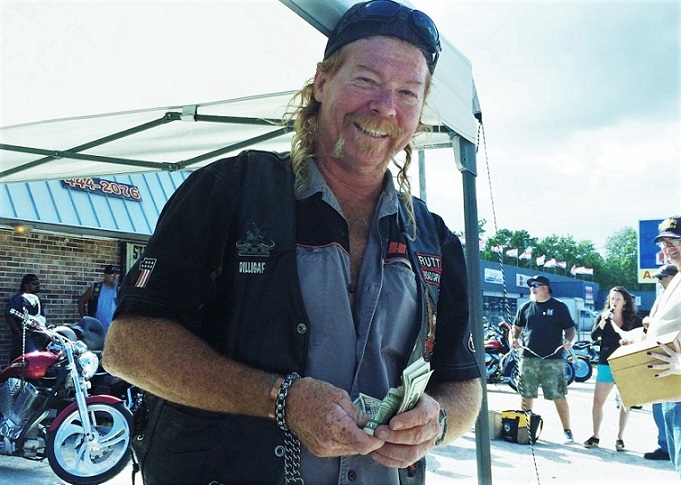 The June 2016 Poker Run for GDA like many others the Lodge has put on was a roaring success. Thanks to all of you who volunteered, attended, donated prizes, pledged $$$, or helped out in any other way. We truly are grateful from the bottom of our hearts! Guide Dogs of America is a non-profit that breeds, raises, and trains dogs to help the blind and visually impaired people live a life of independence.  Your support helps us continue to give this gift at-no-charge. Thank You!!