Local Lodge 2297 has been actively supporting the Guides Dogs of America Program and the California based school for the past 15 to 20 years. The lodge formed an active committee to determine methods of raising funds for this worthy cause in the early 2000s and has held multiple fund raisers with much success.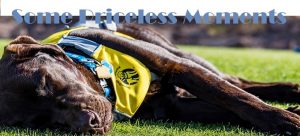 Brief History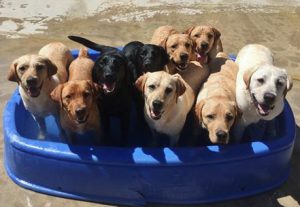 More Than 70 Years Ago…At the age of 57, Mr. Jones sought the assistance of a guide dog for his mobility needs, but was declined by many organizations due to his "advanced age." Because Mr. Jones was determined that a guide dog would enhance his independence, he turned to the IAMAW for help, soliciting assistance from its Executive Council.
After extensive research the IAMAW Executive Council endorsed the founding of International Guiding Eyes. The organization became one of the first guide dog schools to be founded by a blind individual, and also adopted a policy of no upper age discrimination. International Guiding Eyes, Inc., dba Guide Dogs of America (GDA) has matched thousands of individuals who are blind and visually impaired with extraordinary guide dog partners.
For more than 70 years, Guide Dogs of America (GDA) has had over 3,500 dogs graduate from the rigorous training that transforms them from puppies into intelligent, well-trained, loving, dependable guide dogs for the blind. Contributions to GDA provide veterinary care, housing for students, and the extensive training needed to enable recipients to live life with a renewed sense of freedom and independence aided by their new companion. With the need for highly qualified service dogs continuously growing, Guide Dogs of America (GDA) merged with Tender Loving Canines (TLC) in January of 2020, allowing them to expand their ability to offer service dogs for Veterans, children with Autism, and Facility Dogs.
GDA Annual Fundraising event in Las Vegas
Enjoy A Virtual Tour of the GDA Campus
guidedogsofamerica.org