EAP-NEED HELP? LET US ASSIST!
IAM Employee Assistance Program (EAP)
The central purpose of unions has always been to respond to workers' needs and concerns. Unions have a history of establishing and promoting community initiatives that improve the lives of workers and their families. The growing disease of substance abuse, addictions, mental health, stress, depression, financial hardship, including but not limited to socioeconomic issues, are serious problems that hinder quality of life for many of our members.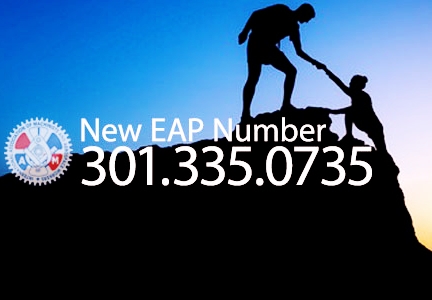 At times, trying to make it through life with just everyday stressors is tough. Add substance abuse, depression, addiction or mental illness and it can be downright unbearable. The IAM understands that in order for members to be able to perform their jobs at the highest possible level, they must be happy, have a clear mind and be free from outside distractions. The IAM's Member and Employee Assistance Programs (MAP/EAP) assist workers and their families through prevention, intervention, assessment, directed care and follow-up services for problems that adversely impact workers' lives.
You are NOT alone!
A member of a church, who previously had been attending services regularly, stopped going. After a few weeks, the pastor decided to visit him. It was a chilly evening. The pastor found the man at home alone, sitting before a blazing fire. Guessing the reason for his pastor's visit, the man welcomed him, led him to a comfortable chair near the fireplace and waited.
The pastor made himself at home but said nothing. In the grave silence, he contemplated the dance of the flames around the burning logs. After some minutes, the pastor took the fire tongs, carefully picked up a brightly burning ember and placed it to one side of the hearth all alone then he sat back in his chair, still silent.
The host watched all this in quiet contemplation. As the one lone ember's flame flickered and diminished, there was a momentary glow and then its fire was no more. Soon it was cold and dead.
Not a word had been spoken since the initial greeting.The pastor glanced at his watch and realized it was time to leave. He slowly stood up, picked up the cold, dead ember and placed it back in the middle of the fire. Immediately it began to glow, once more with the light and warmth of the burning coals around it.
As the pastor reached the door to leave, his host said with a tear running down his cheek, 'Thank you so much for your visit and especially for the fiery sermon. I will be back in church next Sunday.'
We live in a world today, which tries to say too much with too little. Consequently, few listen. Sometimes the best sermons are the ones left unspoken.
The Lord is my Shepherd —– that's a Relationship!
I shall not want —– that's Supply!
He maketh me to lie down in green pastures —-that's Rest!
He leadeth me beside the still waters —–that's Refreshment!
He restoreth my soul —– that's Healing!
He leadeth me in the paths of righteousness —that's Guidance!
For His name sake —– that's Purpose!
Yea, though I walk through the valley of the shadow of death–that's Testing!
I will fear no evil —– that's Protection!
For Thou art with me —– that's Faithfulness!
Thy rod and Thy staff comfort me —–that's Discipline!
Thou preparest a table before me in the presence of mine enemies——that's Hope!
Thou annointest my head with oil —–that's Consecration!
My cup runneth over —– that's Abundance!
Surely goodness and mercy shall follow me all the days of my life—-that's Blessing!
And I will dwell in the house of the Lord —–that's Security!
Forever —– that's Eternity!
Remember – What is most valuable is not what we have in our lives, but WHO we have in our lives!
9000 Machinists Place
Upper Marlboro, Maryland 20772
Phone: (301)967-4717
Fax: (301)967-3427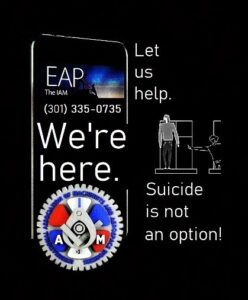 The Employee-Assistance-Program
Depression

Stress

Alcohol and Drug Disorders

Excessive Debt

Mental Health Disorders

Addictive behavior